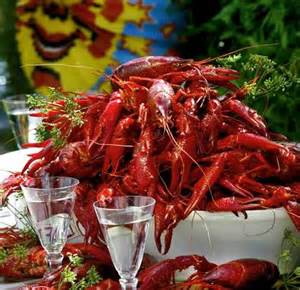 CRAYFISH PARTY AT B.A.R!
From Wednesday August 12 you can enjoy our crayfish at B.A.R. Our crayfish are delivered live to B.A.R. and we boil them in water, beer, crown dill, sugar and salt.
Your crayfish party:
Half a kilo crayfish
A small loaf of syrup bread
Crisp bread
Swedish cheese Västerbotten
320 kr
Suggestion: Add 6 cl aquavit Skåne and a bottle of B.A.R. Ale
470 kr
Or…bring B.A.R. crayfish home. You can buy the by the kilo and they are 395 kr/kilo. It is necessary to pre-order crayfish at least one day ahead via info@restaurangbar.se. Let us know when you want to pick them up. You can pick up crayfish from Thursday August 13. We will sell them as long as we can get a hold of good crayfish.