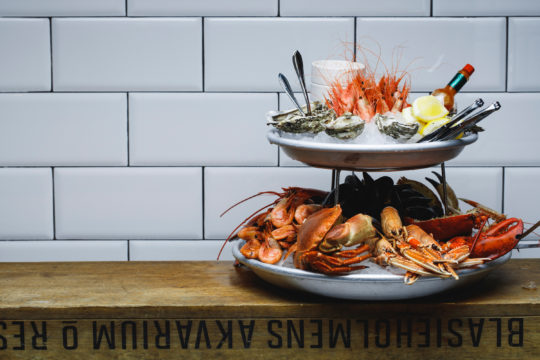 TAKE AWAY FROM B.A.R.
We try our utmost to make you feel safe when dining at B.A.R. We will not seat you close to others, we are working on having hand sanitizers on several places in our dining room, you can pay via company swish and also use the app Maîtres as a payment solution.
Our opening hours are, at the moment, evenings Thurs-Sat from 5 p.m. Take away evenings Thurs-Sat as usual.
You can order take away via the app Wolt who can deliver our food to you if you like.
In our counter we have Creamy shrimps 100 g 95 kr, Bouillabaisse sauce 4 dl 95 kr (to make your own fish casserole), Mayonnaise 100 g 20 kr, Garlic mayonnaise 100 g 20 kr, Salsa Chilena 100 g 40 kr, Sauce tartar 100 g 30 kr, Whitefish- and dill crème fraiche 100 g 50 kr, Salmon pudding 125 kr/port, Desserts to go 45 kr, Small brioche 20 kr, Sour cream…
We also have lots of shellfish: Common mussels in net 69 kr, Boiled lobster whole or half 300/150 kr, Crab whole or half 180/90 kr, Smoked shrimps 100 g 45 kr, Boiled shrimps 100 g 45 kr, Boiled langoustine 28 kr/pp, Oysters 28 kr/pp, Oyster knives 100 kr, Pike-perch fillet 180 g 80 kr, Cod fillet 180 g 99 kr, Char fillet 160-180 g 85 kr, Swedish caviar 30 g 100 kr, Swedish caviar 100 g 320 kr and a "kit" with Swedish caviar, brioche, sour cream, red onion 150 kr.
Thursday-Saturday these Shellfish bags can be picked up from 3 p.m:
Shellfish bag 1
Half lobster
2 langoustine
150 g smoked shrimps
150 g fresh shrimps
365 kr incl bread, lemon and mayonnaise
Shellfish bag 2
2 half lobster
4 langoustine
300 g smoked shrimps
300 g fresh shrimps
715 kr incl bread, lemon and mayonnaise
Pre order at noon at the latest to be guaranteed to have your bag but of course it is possible to just come by or call to see if we have more. info@restaurangbar.se
Call us, 08-611 53 35, and order from our take away menus which you can find under MENUS. There are lots of tasty courses and shellfish to order, grilled fish with sides and sauces and more….
B.A.R.'s company swish number is 123 48 98 490.
Buy a gift card from our website and save the meal to a safer date ahead. Please let it be soon. Take care.
Lotta and Henrik, Annette and Peter and Daniel with staff
Follow us on instagram and FB for the latest news: restaurangbar