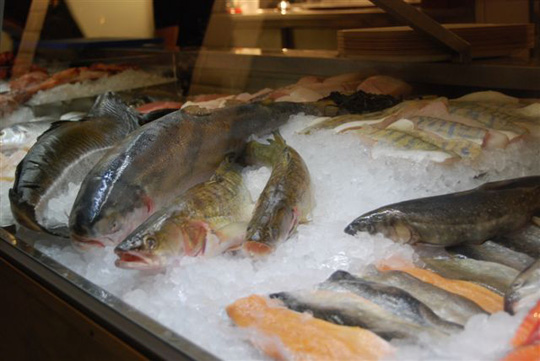 B.A.R.'s MARKET. "Eat at B.A.R. or take away!"
Fresh fish and shellfish are delivered daily to B.A.R. We display everything, from oysters to whole fish and delicious meat and sausages, in our glass counter. As our guest it is possible to take part of this on site, by having lunch or dinner or come by and bring home what you would like to cook. We can guarantee that our market prices are lower than in any other market in town. The price rates are set daily but we would like to give you some price examples and our most common range of raw products: Seabass 170 SEK/kilo, Char 280 SEK/kilo, Halibut 360 SEK/kilo, Pike-perch 300 SEK/kilo, Flounder 240 SEK/kilo, Salmon 150 SEK/kilo, Lobster 420 SEK/kilo, Shrimps 250 SEK/kilo, Crab 180 SEK/kilo, Lavaret roe 450 SEK/kilo, Bleak roe 1100 SEK/kilo, Entrecôte 390 SEK/kilo, Roastbeef Black Angus 190 SEK/kilo, Veal 330 SEK/kilo, Lamb 260 SEK/kilo etcetera….
Welcome from 8 a.m. on weekdays and from 4 p.m. on weekends. Please call the kitchen on 08-611 53 31 if you would like to order anything specific!