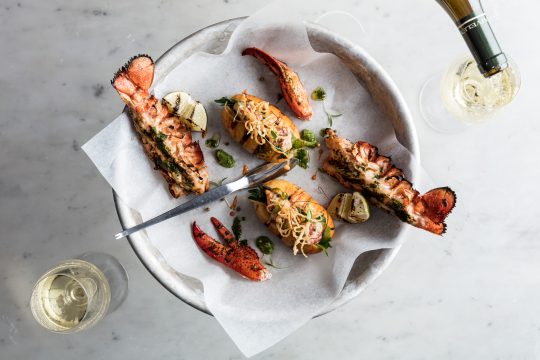 B.A.R. is directed by the award-winning chefs and gastronomic visionairs Henrik Norström, Peter Johansson and Daniel Frick.
"With B.A.R. we strive to stretch the taste palette of Stockholm by combining local produce and selected imported specialities to mix it in a modern yet convenient way. A restaurant where ingredients are key and where the price frame and the seasons helps create a food concept based on simplicity, everyday deliciousness and the sea"
– Henrik Norström: praised chef and gastronomic visionary, Restaurant B.A.R.
At the Ocean Grill guests are welcome to participate in the creation of their own meals, by stepping up to the fish tank or ice counter to choose among a wide variety of fresh fish, meat, seafood, seasonal vegetables and condiments. Our guests can fully request ingredients and the preparation of their dinner. Pick out a meal from scratch, or choose one of B.A.R.s set courses, suggested to fit the season and the harmony of the different flavours.
B.A.R. is a venue available, suitable and affordable for every situation. Serving uncomplicated, delicious fresh food in a timeless restaurant bistro concept at the heart of the city, constantly flowing with colleagues, friends and acquaintances stopping by to mingle, have a drink, and a bite to eat.